---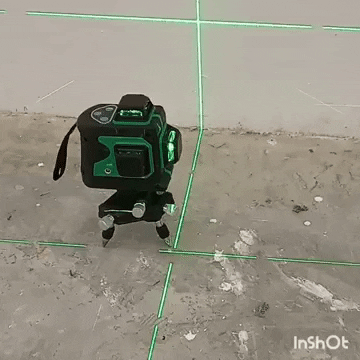 The 3D Auto-leveling Laser Level with Pulse Function provides complete all around levelling coverage with 360° no dead angles, and enables you to work conveniently in all different parts of a large room. The rechargeable battery packs that last about 8 hours. Along with the charging function, this laser level can be used with direct power input even without a battery.
The IP54 water/dust-proof ensures working well in lousy working conditions. Protected all sides make the laser level enough wear-resistant, shock resistant and impact resistant.
It is both accurate and clear in the sun which means available for usage even in outdoor settings.
PRODUCT FEATURES
HIGH-QUALITY

. The laser level can provide 12 lines of green laser light for convenient use. The raised green lines are lighter, lighter, thinner and more stable than normal red lines.

360-DEGREE VERTICAL AND HORIZONTAL PROJECTION

. The Cross Line Laser projects a horizontal and vertical laser line with 360 ° of combined or independent green laser lines on the wall, allowing you to work in different parts simultaneously. a big room. This allows you to perform a 360-degree level transfer, weld transfer and work in space, both indoors and outdoors with ease.
HIGH-ACCURACY.

 Accurate measurement with +/- 2.2mm / 10m leveling accuracy for laser lines. When working with a lot of ambient light, green laser lines offer twice the visibility of comparable devices with red laser lines.

The light emitted in green light is higher because of the modified wavelength relative to the red light. Perfectly i

deal for working in very bright environments with the use of green light technology. 

PORTABLE AND EASY-TO-USE.

 Compact and lightweight for easy grip, but big enough to sit stably; Equipped with a zippered pocket, can prevent dust for storage and protects the level and the base in L against shocks/scratches
WIDE APPLICATION

. The laser line level can be used wherever precise verticals and horizontals are needed, typically in the building and cabinetry industries. It is also for the masonry, the installation of work plans, the painting, the installation of stairs, the decoration of the wood, the installation of suspensions of ornaments, etc.
PRODUCT SPECIFICATIONS
Material: Metal +Plastic
Color: Green
Laser line: 12 laser line
Waterproof rating: IP: 54

Overall accuracy: ± 2.2mm / 10m
Working range (radius): 25m.
Working hours: 8hours
Laser power: 100mw
Laser light: 360 * 3
Horizontal/vertical accuracy:± 0.2mm/1m

Automatic leveling range: ±3
Greenlight working temperature: 0℃ to 40 ℃
PACKAGE INCLUDES
1 x 

3D Auto-leveling Laser Level with Pulse Function

1 x lithium battery
1 x Bag
1 x Charger
1 x Base
This section doesn't currently include any content. Add content to this section using the sidebar.