Blackheads Vacuum Pore Cleaner
Regular price
$100.00
Sale price
$49.90
Save

$50.10
/
Promotion: Free Worldwide Standard Shipping
---
WHY DO WE GET BLACKHEADS?
Blackheads and acne can be distracting and embarrassing. Our pores get clogged with what contains oils, dirt and residue from our every-day lives. When left untreated, they grow and expand, getting bigger-and-bigger on the skin.
Luckily, we've got this super effective solution that has helped many of our customers.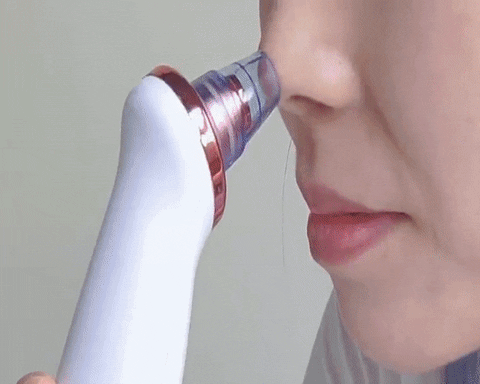 This revolutionary Blackheads Vacuum Pore Cleaner will have your skin clear of blackheads within seconds.
The design and operation of the machine are highly user-friendly which makes it convenient to use for everyone from amateurs to professionals.
WHY THE BLACKHEADS VACUUM PORE CLEANER IS YOUR FIRST CHOICE TO FIGHT AGAINST BLACKHEADS?



Blackheads are hidden in the pores. The wrong used method to extract the pores might hurt your skin. The key to sucking blackheads is to open the pores. Since blackheads are large at the bottom of the pores and small at the top. Proper suction can thoroughly suck out blackheads, whiteheads, acne, dead skins, and clean your pores. Your skin immediately appears vigorous after use. Blackheads Vacuum Pore Cleaner works for all skin types.
HOW EXACTLY DOES IT WORK?
Our vacuum suction device is designed to be a professional alternative to beauty salon treatments and can help to remove blackhead, acne and clean the face deeply and it is suitable for treating dry skin, sagging skin, dull skin and also wrinkles. Vacuum function cleans dirty pores through suction and increases blood circulation in the skin.
Comes with 5 replaceable beauty heads, which can offer different functions and offer a deeper clean for your facial skin.
WHAT TO EXPECT WHEN USING OUR BLACKHEAD VACUUM PORE CLEANER?
✅ Reduces the appearance of pore sizes
✅Increases hydration
✅Removes dirt and oil
✅Leaves your skin soft & flawless when it's time to apply makeup
✅Allows your skin to absorb skincare products up to 20x deeper
✅Is designed to assist you with exfoliation, skin rejuvenation & spot cleaning
✅Provides you the same results as professional, in-salon microdermabrasion treatments
✅Makes skin look and feel beautiful
✅All from the comfort of your own home
TWO THE MOST FREQUENTLY ASKED QUESTIONS:
1. Does it cause bruising?
Using gentle strokes while moving along the skin will ensure no bruising. Bruising is only caused by leaving device on the spot for more than 5 seconds(a hickey) but with experience you will know how long your skin can handle.

We recommend using the device after a hot shower and before bed time so in the event of bruising it will heal overnight.

2. Will my pores be enlarged?
Absolutely not! Your pores will be temporarily inflamed due to the dirt and blackheads being sucked out but will cool down within 10 - 15 mins.

RESULTS - BEFORE & AFTER:

WHY YOU SHOULD CONSIDER GETTING THIS BLACKHEADS VACUUM PORE CLEANER?
Suffering from bad skin and having unsightly blackheads or acne is no fun, nor is looking old before you are ready! If you want to be at your best for that life-changing interview, business meeting or date but your skin is letting you down, then your confidence won't be high when you need it to be. 1 or 2 weekly skin care treatments for only 5 minutes with our blackhead remover will bring about a noticeable difference you can see and feel.
WHAT ELSE DO YOU GET FROM USING THIS DEVICE?
Diamond skin peeling:

 

The exfoliating tip provides a non-invasive treatment to rub off top skin layer to remove the dead cells. Makes skin smoother, with more refined texture, and firmer by stimulating natural cell renewal.
Face lifting:

 

The vacuum lift system creates a gentle stimulating massaging action, stimulates microcirculation, with a firming effect on the skin.
Deep pore cleansing:

 

Unique small round hole design, perfect for blackhead and acne removal. It thoroughly removes dirt trapped in pores, hence reducing acne.
Wrinkle removal:

 

Unique small elliptical hole design, gently massaging the face, stimulating blood circulation and cell renewal, reducing appearance of fine lines.
Packaging Includes:

1 x Blackheads Vacuum Pore Cleaner

5 x Probes
1 x USB Charge Cable
1x fitter cotton
Click 'BUY IT NOW!' and enjoy a limited time discount!

*Limited Items Remaining In Stock! Not Sold In Stores!*

100% MONEY BACK GUARANTEE
Important: Shipping lines all around the world are being severely affected. Please consider an extra delay for delivery. We are managing to dispatch our orders as usual, but the shipping companies worldwide are facing congestion and are experiencing delays. We are sorry for any inconvenience caused. Let's all hope we get back to normal soon! Best wishes to your family and friends! 
Shipping policy
We proudly offer FREE worldwide shipping via ePacket or Priority Shipping with DHL Please note that we require 1 to 3 working days on average to fulfill your order before dispatching it. We are doing everything in our power to get your order to you as soon as possible! Once your order is dispatched, depending on your country or region and the shipping option, the estimated delivery time is shown below. Please keep in mind that holidays  or custom holds may delay the delivery time. 
100% Guarantee: No matter where you live, you're 100% sure to receive your package. If it ever gets lost, we will reship you a brand new one, or we will refund you.
The shipping time consists of two sections:
Processing Time: Verification of order details, sourcing, quality checks and packaging. All orders are dispatched from manufacturer within 72 hours (1-3 working days) after the order is placed and the payment is received. 
Shipping Time: The time taken to arrive to destination after dispatch from our warehouses. 
Verification Time:  If your billing information does not match with your shipping information, we may extend our processing time up to 5 days to protect our customers and IFL Gadgets.  We will do our best to expedite this by contacting you to ensure there was no errors upon checkout.


INFORMATION FOR FREE STANDARD SHIPPING
7 TO 20 BUSINESS DAYS FOR
 United States
10 TO 23 BUSINESS DAYS FOR
 Canada
 Australia
 UK
 Ireland
 New Zealand
 Austria
 Belgium
 Brazil
 Denmark
 Finland
 France
 Germany
 Greece
 Hong Kong
 Italy
 Japan
 Korea
 Luxembourg
 Malaysia
 Netherlands
 Portugal
 Saudi Arabia
 Singapore
 Spain
 Sweden
 Switzerland
 Hungary
 Israel
15 TO 25 BUSINESS DAYS FOR
 Rest of the world
INFORMATION FOR PRIORITY SHIPPING


Currently Available for Select Products
 United States
 Canada
 Australia
 UK
 Ireland
 New Zealand
 Austria
 Belgium
 Brazil
 Denmark
 Finland
 France
 Germany
 Greece
 Hong Kong
 Italy
 Japan
 Korea
 Luxembourg
 Malaysia
 Netherlands
 Portugal
 Saudi Arabia
 Singapore
 Spain
 Sweden
 Switzerland
 Hungary
 Israel
8 TO 12 BUSINESS DAYS FOR 
Rest of the world
At IFLGadgets, we celebrate the art of discovery. We work with small vendors from all over the world to share their products, some of our products are shipped directly from our vendors overseas. Due to the nature of the shipping business, delays are often inevitable, all our shipping times are therefore guidelines only and specific delivery dates are not guaranteed. Our fulfilment centres are located in the U.S and China; depending on stock availability and proximity of your address, orders will be automatically sent accordingly.
Tracking your Order:
Once the order has shipped, we will email your tracking number and tracking website. We are not responsible for delays caused by the customs department in your country. Please allow up to 3 - 7working days for the tracking information to show.
Wrong Address Notice:
It is the responsibility of the buyer to make sure that the shipping address entered is correct. We do our best to speed up processing and shipping time, so there is always a small window to correct an incorrect shipping address. Please contact us immediately at info@iflgadgets.com if you believe you have provided an incorrect shipping address.
Returns:
By placing an order on IFLGadgets, you are responsible for the cost of return shipping back to IFLGadgets. Please refer to our Return Policy for further information on how to make a return.
Refund policy
Return the new, unopened items to us within 30 calendar days of delivery. 
Simply contact our support team at info@iflgadgets.com if you have any questions regarding your return. 

Any product you return must be in the same condition you received it and in the original packaging. Please keep the receipt/proof of purchase. 

Please be considerate when placing your order to choose the correct size, color, or option, of your product to avoid any returns for exchanges. 

Due to the custom made nature of some of our handmade products we can not accept returns/exchanges or offer refunds for any handmade item. 

Rejected or refused packages, abandoned packages, and packages returned outside of the designated return process (Please see above for designated return process) will result in a restocking fee of 20% of the total value of returned parcel
To begin a return, within 30 calendar days of delivery, Reach out to our customer support team at info@iflgadgets.com to confirm the return.

You must receive a authorization number by emailing info@iflgadgets.com before a return or exchange can be initiated.