---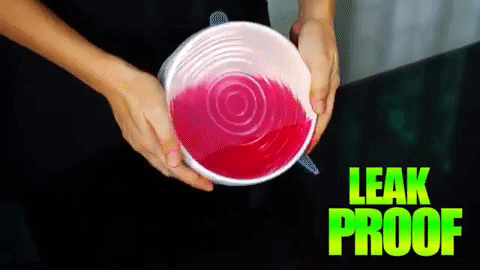 Stretch & Seal Lids come in a 6-piece multi-sized pack that's ideal for sealing up just about any size jar, food object, or cup. 2.6", 3.7", 4.3", 5.5", 6.3", and 8.1" are among the sizes accessible.
Durable and safe, with extra thick silicone, these lids won't tear or warp and can be used over and over. They're a must-have item for anyone who wants to save fridge and cabinet space, time cleaning up and use a waste-free alternative! 
High-Quality and Eco-friendly, these non-toxic, silicone lids are made of BPA-free, lead-free, and 100% food-grade, food-safe materials! Resistant to heat and cold, these lids are safe to use in temperatures from -40 degrees C to 450 degrees F, plus, they're a dishwasher, refrigerator, microwave, and electric oven safe! 
NEVER struggle to find matching lids again, with our Stretch & Seal Lids it's easy to find just the right size for any item! 
ENJOY

 

the tightest seal possible- best achieved when the sealing surface is DRY.
FITS

 

directly over bowls and individual food items, avoiding a container transfer.
FRESH, FRESH and fresher!

 

Keep leftovers fresh for later use. 
To get the most out of your lid, make sure it's fully dry before putting it on a container or food. When putting the container in the microwave oven, make sure the seal is slightly ajar so that the expanding heat and pressure can safely escape the container without damaging the lid or container.


Includes 6 sizes in one package- Eliminate the hassle of lost lids!
This section doesn't currently include any content. Add content to this section using the sidebar.