---
This Remote Control Dinosaur toy will transport your child to the Jurassic Time!
Do you want to play with the coolest robot dinosaur toy? This Fire-Breathing Dinosaur toy comes straight out of a fairytale! But don't worry, this horrific beast doesn't breathe fire; instead, it breathes water!
Bring this lifelike remote control dinosaur to life! 

It imitates the roars and motions of a real dinosaur. A built-in speaker with roaring sound effects is included in the remote controlled dinosaur toy. The dinosaur figure can walk on the floor thanks to its full-motion legs. In addition, once the water inlet is filled with water, this RC dinosaur will spray mist.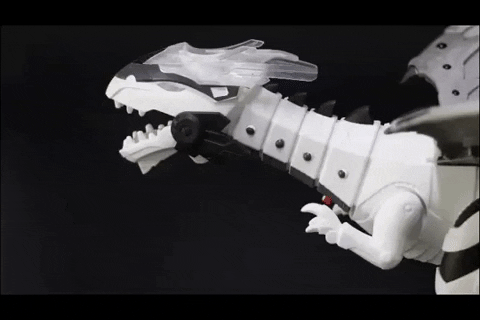 Product Features:
REALISTIC FIRE BREATHING: This dragon toy has a realistic dragon's breath and a built-in mist spray and LED light. Every few seconds, the robot dinosaur will spray a red light mist, as if fire had exploded from its mouth. The head has a built-in water case, and all you have to do is fill the hole with water using the supplied plastic bottle.
MECHANICAL OUTLOOK DESIGN WITH VIVID MOVEMENT: Like a robot, the robot dinosaur's body is made up of several tiny parts of various sizes. The robot dinosaur toy's neck and tail can shake, the wings can spin, and the mouth can roll. The heavy feet of the robot dinosaur have wheels and walk with dinosaur roars.

HIGH-QUALITY MATERIAL:

The body of this mechanical dinosaur is made of high-quality, environmentally friendly ABS. Dino robot's horns and tail are made of a transparent soft silicone material that will not affect children. Due to our focus on providing high-quality and healthy toys for children, we have created an environmentally friendly, non-toxic roboraptor.

EASY TO INSTALL & PLAY:

 

Only need to put 3 x AA batteries (not included) in the battery case of robot dinosaur toy and install the wings and tail by hand, fill the water in the head, then turn on the power button
This section doesn't currently include any content. Add content to this section using the sidebar.